York brings its red-and-white pride to new heights for the University's 55th birthday

published May 7, 2014
This March 26, York students, faculty, staff, alumni and friends came together to celebrate the University's landmark 55th birthday—and the red-and-white spirit looked just as good from the air as it did from the ground!
The pinnacle of this biannual Red & White Day celebration was the University's first aerial group photograph (pictured below), featuring several hundred people decked out in their red-and-white York gear. After some skilful organization by staff in the Office of the President, everyone turned their best face to the sky in the formation of a stylized "YU" that brightened the wintery chill.
"What a great beginning for an afternoon of celebration for York's Red & White Day," said a delighted President Mamdouh Shoukri. "I am excited to see so many of you here in your red and white to celebrate this special day, which is a great way to raise our spirit at York and show the community our pride for the University."
"Today is also the University's 55th birthday and in such a short time, we've managed to create one of the country's leading universities through our commitment to academic excellence, student life and community engagement," he said. "We are on our way—this is York's time. We are creating a university that is second to none."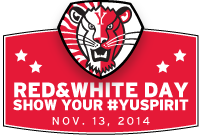 Over the University's journey so far, the student body has grown to an incredible 48,000+ undergraduate and 5,000+ postgraduate students, while York's alumni family has ballooned to more than 270,000 people in nearly 150 countries—and that number only continues to grow!
Red & White Day began bright and early with an alumni breakfast celebrating grads who work on campus. Throughout the day, volunteers from the student ambassador group York is U handed out luscious red velvet cake pops to students in Vari Hall. The day also included a very popular Food Truck event with street food by some of Toronto's top road worthy gourmets, including Smoke's Poutinerie, Food Dudes, Cornehcopia and Beaver Tails.
Just before the aerial photograph, hundreds of students gathered in the Student Centre on the Keele campus for a Red & White spirit rally to honour York's varsity athletes.
To view a Storify of the day's tweets and Instagram photos, visit https://storify.com/YUPres4aDay/red-and-white-day-yorkus-55th-birthday-celebration.
Homecoming 2014 – Sept. 17 to 21
Didn't get a chance to show your York pride this past Red & White Day? Have no fear—the next big chance for grads to show some school spirit is right around the corner! Homecoming 2014 is coming up this Sept. 17 to 21 and, as always, our York grads are invited back to campus to take part in the festivities.
York's Homecoming celebration is a time for the entire University community, and especially York grads, to come together on campus, show their red-and-white pride and take part in dozens of exciting events—including the York University Alumni Association (YUAA) AGM, the Toronto mixer and the annual Homecoming football game, where the York Lions will take on the McMaster Marauders.
Keep an eye out for emails with more information about Homecoming 2014 and stay up-to-date with the schedule of events by visiting the Homecoming website.